In the first instance you should go here and read our advice page. It is just our general guidance to help you.
419 Scam
Romance Scam
Oliver Jack
(Skype Scammer)
Skype ID:

live:goodmens7890

(Oliver Jack)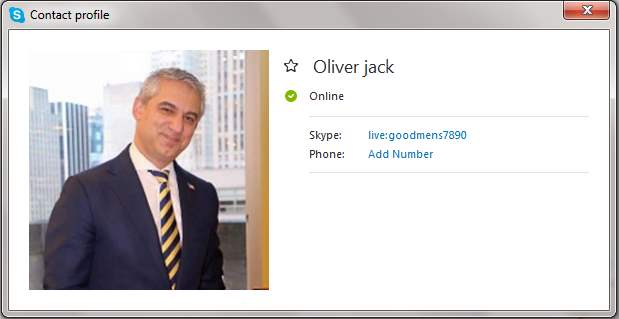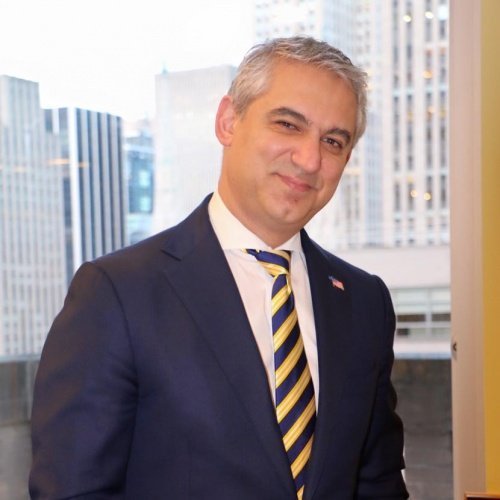 Photo of David B. Samadi (a celebrity doctor and is the Chairman of Urology, Chief of Robotic Surgery at Lenox Hill Hospital, United States)
PROFILE INFORMATION:
Skype name: live:goodmens7890
Full name: Oliver jack
Skype Chat:
Oliver jack:
Hello
How are you
How is your night
Nice to meet you
Well Am Oliver jack from US but i'm currently serving in Afghanistan for my job and where are you from?
I'm 53 years old but I know age is just a number
Dear Age does not matter in a relationship, what matter in a relationship is love
What man need for woman is love and turth
Well I'm a widower i lost my wife 5 years ago but i do have a Son he is 14 years old he study in UK
because i do have anybody who can help take good care of him
That is the reason,  why
My son live so lonely that why am so worried for him
Since then I lost my wife I have been so lonely and worried but I have decided to let go of my past and focus on my future because life is too short for one to live a lonely life
I want to get married again and enjoy marital life as others do
I will love to have a touch with you here both via email address
Please give me email address?
my private gmail address i only chat with my son training Master on my private gmail address so it will be my greatest pleasure to have you on my gmail address as well
I can't open my cam for you. Dear Do you want me to lost my job?
My dear please we are restricted from using video because of security reason
Dear i know okay but please you can find out in google on what happened to Capt Clark 05 May 2012, when having skype video with his friend and he was shot by the rebels in Afghanistan
my dear serious warning has being giving to us about using of skype video and if you are sending me to death then you can let me open my camera just to make you happy and send me to wrong direction
Am serious with you
i see a good future for both of us
Dear i want you to believe me am very nice person
All relationships have some adjustment periods, but being hurt should not be part of being in love Loving relationships have good qualities such as support from your partner
All i want for you is love and trust okay
I am a Country Man at heart Am quiet but yet I love to meet people open to new things in life love to treat people the way i wanted to be treated love shopping camping country beach traveling, and animals
If may asking What are your Hobbies….Interest…Life style…Religious believe….and Plans  for life?
So tell me what are you think about me?
Dear time will come you will know me
a willingness to communicate a desire to compromise, and open an honest communication When you do not have these fundamental qualities in a relationship that relationship isn't likely to grow and become something that you desire
Do you believe in god?
Make sure your partner gives you support when you need it.
Open and honest communication is one of the more desirable qualities you want to have in a relationship
Mean that i promise you i will never hot your heart i will be with you forever
Please believe me okay
My son need a stepmom i want you to take my son as your her own biological Son please
I'm looking for a Honest Sincere Kind Truthful Loving Caring and understandable woman that will accept my Son as her own biological Son so we could get Married and live together now and forever as one and happy family
I want you to give me an email address so they can talk them later please
Am just doing this for you to believe me
Attachments: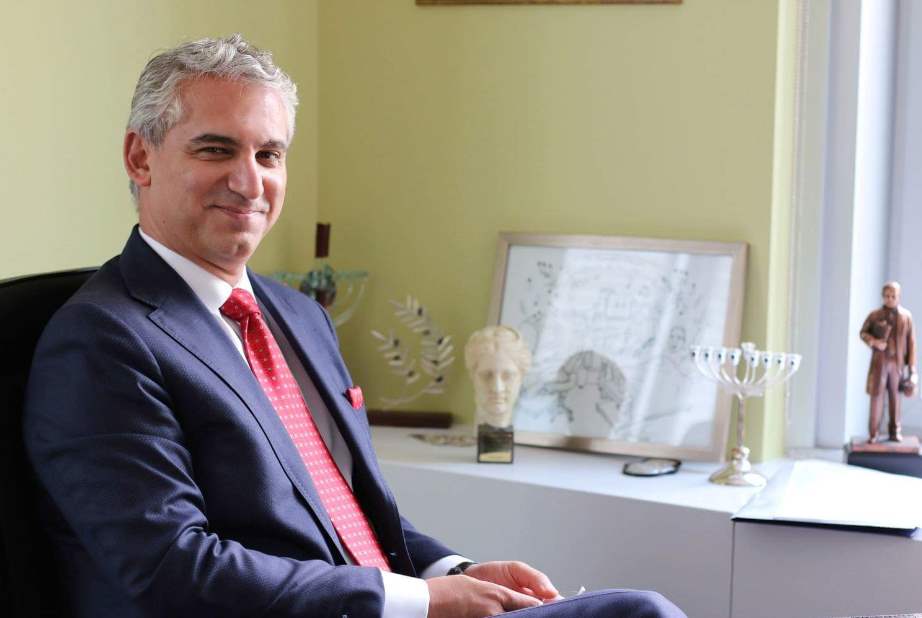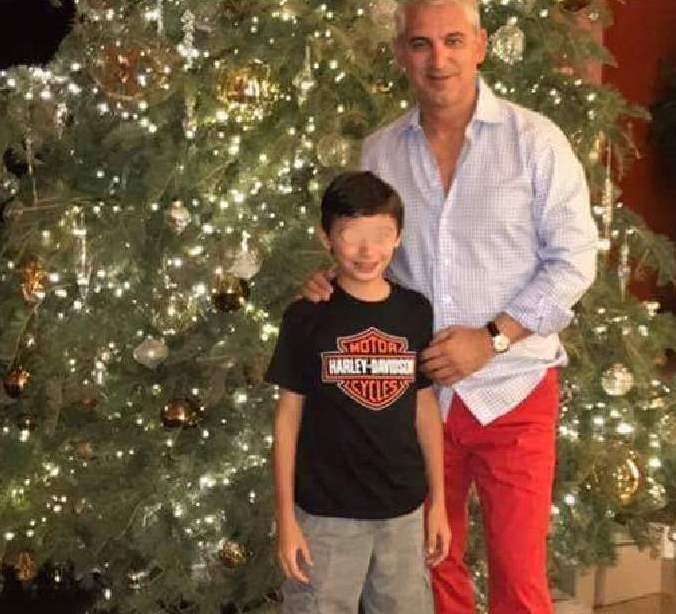 Oliver jack:
Do you see me and my son Owen
My address [email protected]
Scammer Profiles using the same parts of the text:
Pof.com:
1. cygnus91396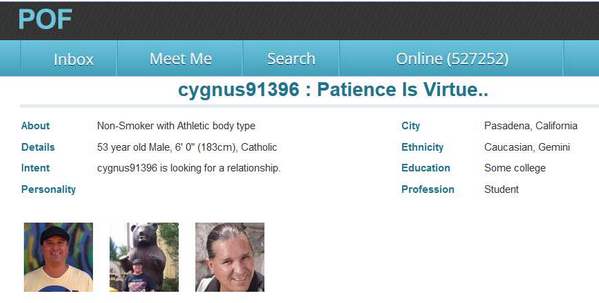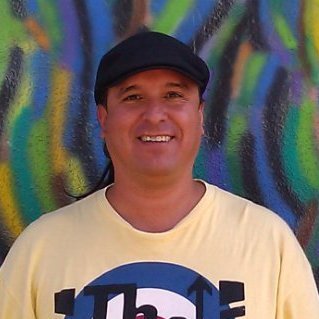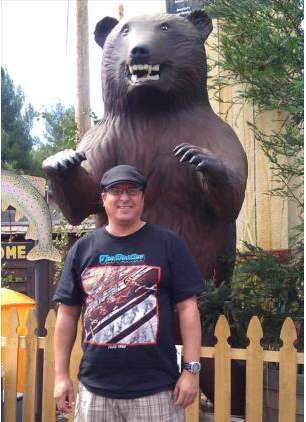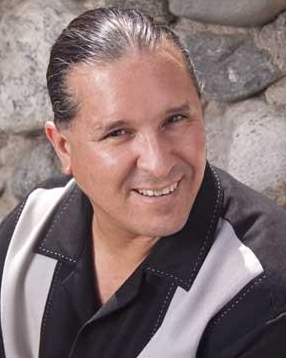 PROFILE INFORMATION:
cygnus91396: Patience Is Virtue..
Age: 53
Location: Pasadena, California
Religion: Catholic
Ethnicity: Caucasian, Gemini
cygnus91396 is looking for a relationship.
Education: Some college
Profession: Student (
)
Marital Status: Single
am Seeking a Woman for Long Term
About Me:
Caring Understanding Respective Devoted Dedicated Validation Reassurance
Trust Acceptance Appreciation Admiration Approval Encouragement
Sensitive Musician Loyal Integrity Dignity Honor Monogamous…relationships have some adjustment periods, but being hurt shouldn't be part of being in love. Loving relationships have good qualities, such as support from your partner, a willingness to communicate, a desire to compromise, and open an honest communication. When you do not have these fundamental qualities in a relationship, that relationship isn't likely to grow, and become something that you desire.
We all turn to our loved ones for support from time to time. When your loved one does not offer you their support it may be time to look at your relationship. As we all want to nurture those that we love. We want the best in life for those that we care about. If your partner is unwilling to listen to you, and to your problems, they are not meeting your needs when you need support. Support can come in many forms, someone lending an ear, someone going out of their way to help you, or something as simple as a phone call to cheer you up. Make sure your partner gives you support when you need it.
When engaging in a relationship with another person there is always going to be things that you do not agree upon.. You want to have the ability to compromise so both partners are getting their wishes met. This may mean one night you watch football, and one night your partner watches a movie you enjoy.. It might mean that your partner can agree to try a dish that you enjoy cooking. In any organization with more than one person in it, there will be more than one opinion, work with your partner to see that both of you can compromise on different subjects. If someone isn't willing to compromise, they are not willing to acknowledge your wants and desires. If they can not acknowledge your wants they are likely not emotionally developed enough for you to have your needs met.
Open and honest communication is one of the more desirable qualities you want to have in a relationship. Watch to see that your partner is not secretive, nor are they willing to tell lies to avoid certain subjects. For example, if a partner is married, and fails to tell you that, you can rightfully assume if they can lie about big things, they can lie about small things. While you may not like everything your partner may say, freedom to be honest should be there in your relationship. Likewise, you need to be open and honest with your partner; a relationship based upon false truths is not likely to be successful, because both partners do not have the correct frame of reference in the relationship.
There are many qualities that make relationships good support, compromise, and open and honest communication is just a few of these qualities that you may desire in a relationship. Engage only in relationships where both partners can openly discuss their wants and needs, this can take practice. Remember loving relationships grow and only become better, eliminate those who do not meet your needs when they continually fail to support you, will not compromise, and will not be honest. These three qualities alone will help you nurture and develop a deeper relationship with your partner.
Conversation Starters (i.e. what you'd like to do on a first date…)
Pay for everything. Don't mention splitting the bill. If the lady suggests paying part of the bill do not accept the offer. If she insists, allow her to pay what she wishes (this is not just a rule for dating). You will be the best judge at the time whether your date is only insisting because she feels obliged.
No movies on the first date.
If you can't cook, takeaways are fine, but serve it on plates at the table and try to make an effort.
I would also suggest that you not go too overboard with the first date. Keep it simple and moderately priced. You can get extravagent on subsequent dates if things go well.
3. Manners
First off, if you are going to dinner, read the Rules for Fine Dining list; try to remember at least one or two. When you pick up your date, get out of the car and hold the door open for her. Do the same when you are letting her out of the car. If you are dining out for your first date, hold the chair out for your date and help her sit.
Don't be late.
. Respect
That means not to expect anything in return! A date is not payment for future pleasures, it is a way to get to know someone to gauge compatibility. This rule also means you should not try to get your date drunk, drugged, or compromised in any other way. At the end of the date you can offer a small kiss – offer nothing else and expecting nothing back.
5. Confidence
Be confident and take charge of the evening. This does not mean you should drag your date around by the arm; be firm with your suggestions and be confident that you will have a good date and make a good impression – remember, if you were a total loser you wouldn't be on the date in the first place.
6. Grooming
Dress appropriately for your date, and you should probably let your date know where you are planning to take her in advance so she can also dress appropriately. If you are going to the beach for a seaside dinner, dress nicely (no jeans) but don't overdress. Similarly, if you are going to a fancy restaurant, wear a shirt and tie. Make sure your shoes are clean and polished if necessary.
Shower. Shampoo. Shave. If you have cologne, wear a little but not too much.
7. Conversation
Do not focus on yourself during the evening – ask your date questions about herself (this works in all social situations). Listen to the replies too and don't just look for an opening to start discussing yourself. Do not talk about your job for more than a few minutes – while our own work is a fascinating subject for us, it is seldom fascinating for someone else. Be sure to compliment your date – but don't go overboard – you will seem desperate.
Do not ever talk about dates you have had with other people or your ex-girlfriends.
. Timing
Don't let your date last too long. Think of it like a good meal – you should finish your plate feeling like you want just a little more. This is t
2. Jhnscot7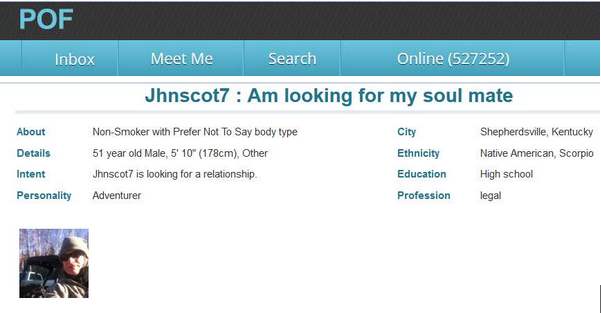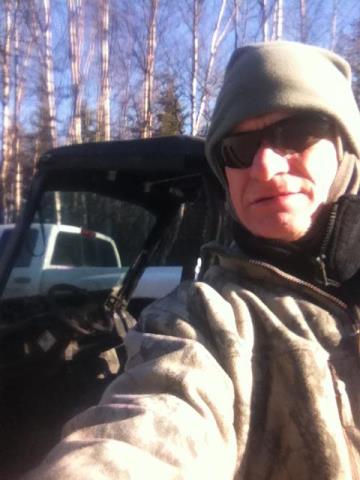 PROFILE INFORMATION:
Age: 51
Location: Shepherdsville, Kentucky
Ethnicity: Native American, Scorpio
Marital Status Widowed
Jhnscot7: Am looking for my soul mate
Jhnscot7 is looking for a relationship.
Education: High school
Profession: legal (
)

About John:
I am a Country man at heart. Am quiet but yet I love to meet people, open to new things in life love to treat people the way i wanted to be treated, love shopping, camping, country, beach, traveling and animals
I like playing hockey and baseball , listen to Deon Moe is the best music
Conversation Starters (i.e. what you'd like to do on a first date…):
Am looking for my soul mate, someone who is exciting and adventurous, has great sense of humor and enjoys making me laugh. someone who is so glad to share, so glad to help and give,someone who i can share my thoughts with and who will makes me feel special and brings out the best in me Someone who tries to understand me even when they haven"t got a clue. Someone that would be ready to give so much of herself and can do anything, go anywhere, and sacrifice anything he has for sake of LOVE. I want the kind of relationship that could leads to marriage and work as a team and have children together …..You are welcome my dear
Visit us HERE:
https://plus.google.com/107412144704560101552
https://plus.google.com/u/0/118111577715408784831