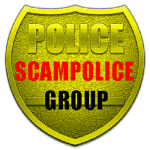 Scampolice Group are committed to protecting your privacy.  For your information and reassurance by submitting your contact details to us, we may contact you if we feel that we can offer personal advice that prevents you from being scammed, or if you request us to. We don't send spam and will remove you from any mailing list we have if you ask us. We never share personal details with third parties, and if we receive scam information from you (and we hope we do ) we will do our best to remove all information that could identify you if we publish it. This includes on photos or on scans of fake documents etc.
We have a few cookies for links to Google Analytics, this may be used to track your behaviour on other websites and we have no control over this. This is the advertising we use but we don't collect information off you. You can find out more about Google ads and policies by clicking this link.  Here.
We can direct you to some browser tools, Consent-o-matic and Privacy Badger that stops tracking. Here and Here.
We also offer you the Google Analytics Opt-out Browser Add-on.  Here.
Comments and contact details are not stored on this website using cookies and your submission is voluntary.  You are under no obligation to submit anything and it will not affect you if you don't.
As for the fuss about cookies. Read about them here. We use Wordfence, Akismet, and tools to stop spam.
If you want to see the lot about trackers just go here
To see your GDPR data use this form.
You can subscribe to our posts and updates by clicking the SUBSCRIBE box at the top of the sidebar.  This directs you to Google Feedburner and does not store anything in this website.

Use of media
We consider  that people who have their pictures stolen are also victims.  We do not own the copyright of their pictures and we publish them for information and under "Fair Use Doctrine".  It is criminals who steal copyrights and we seek to prevent them.  Thank you for your support and understanding in our efforts to make the Internet a safer place.  For more information please refer to the guidelines which Scampolice Group adheres to, 
http://www.nolo.com/legal-encyclopedia/fair-use-rule-copyright-material-30100.html