In the first instance you should go here and read our advice page. It is just our general guidance to help you
Fast and furious, and we are bit short of information  so  we get that down and also their pictures if we can.  We don't want them to miss out on our treats.  We  are nice like that.  Hopefully  life is a little harder for them and it will help save you wasting money sending it to Nigeria/Ghana/Senegal/

Côte d'Ivoire/Benin

You have to remember if it walks like a duck,  talks like a duck, and looks like a duck then there is a better than evens chance it IS a duck.
419 SCAM
Romance Scam

    Williams D  

  
Hi5.com:
Williams D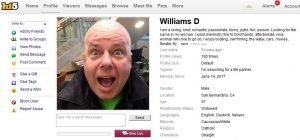 Photos of Eric Worre (speaker, trainer, and consultant: Company Name Network Marketing Pro Inc., United States)
PROFILE INFORMATION:
Tagline: I'm searching for a life partner.
Member Since: June 14, 2017
Gender: Male
Location: San Bernardino, CA
Age: 57
Relationship Status: Widowed
Languages: English, Deutsch, Italiano
Ethnicity: Caucasian/White
Religion: Catholic
Orientation: Straight
Williams D:
I am a loving, kind, romantic, passionate, funny, joyful, fun, person. Looking for the same in my woman. I want chemistry, like to hold hands, affectionate, nice, woman who like to go do. I enjoy boating, swimming, the water, cars, movies, theater, flying, singing, dancing, and I like to go traveling.
About Me:
    Music:
    Horror movies are my favorite, especially one's with plenty of gore! I also like suspense, action and comedy.
    Movies:
    Movies Dirty Dancing; Pretty Woman; Save the Last Dance; and Maid in Manhattan. Anything but horror,  (Oh dear.  Just now he liked plenty of gore!!! But then it was supposed to be about music.)

    TV:
    I like watching many different shows and programs.Judge Mathis, Judge Judy, The Simpsons and Family Guy,Truman.
    Books:
    Foreign Affairs Magazine, and International Law Journals.Fiction, Magazines/Sports, News Lines, Non-Fiction, Poetry, I read almost anything that will add to my development as a person.
    Sports:
    I like playing Soccer, dancing, , music and cooking.I'm romantic, caring vivacious, warm-heated, open- and single-minded, responsible, family-oriented sun bathing; walking; talking; friends; communicating; corresponding; dancing; karaoke; going on picnics; going to baseball games; watching sports; going to movies and shows; going to the beach; attending or throwing dinner parties; animals (dogs and cats); and cuddling with that "special" person.
    Interests:
    I am looking for a WOMAN, comfortable enough with herself to express the passionate side of her soul. A woman that can give me Soft Kisses and Sensual Touches,I am looking for someone good looking, smart with a great sense of humor and knows the meaning of "relationship", I love to joke but am serious when need be. I'd love to meet someone to enhance my life but not take away my independence.
    Dreams:
    Cool
    About Me:
    I am honest, loyal, faithful, trusting, kind, caring, loving and fun, with a compassionate and generous nature.
Hi5.com. INBOX:
Williams D:
– Well am so sorry I messaged you… i was opportune to see your profile picture and i must say that what i saw was quite fascinating & interesting. You stick me as a divine handsomeness of endless chime and all that is fair and lovely meets in your aspects. I was bored so just feel like chatting and besides I'm new on here, i am interested in knowing you.
– how are you doing there?
– You are welcome, well my name is Williams am from San Bernardino and you?
– Okay, this is a very slow apps. It takes long before i could open my messages here, are you on Google hangout messager?
– i want us to hangout there if don't mind my lady, cause am always online on Google hangout
– Oh, i don't like Facebook dear, do you have skype?
– i have been sending you messages on yahoo messager you are not replying me
[email protected] send me a mail then
are you on skype baby?
i have send you a request on skype there
Scammer Profile with photos of the same man:
Facebook.com:
1. Eric Worre

(Deleted profile)



https://www.facebook.com/profile.php?id=100016834243148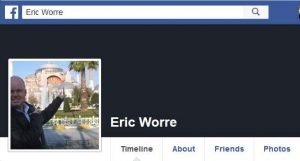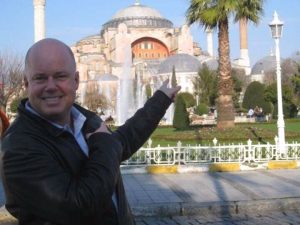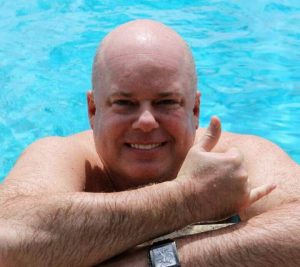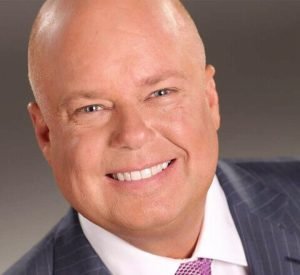 2. Eric Worre (Deleted profile)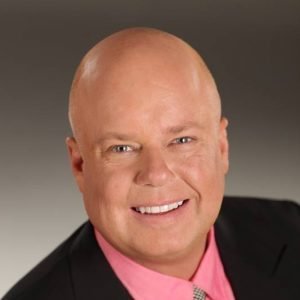 MeetUp.com:
ALEX G.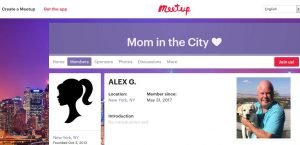 PROFILE INFORMATION:
Location: New York, NY
Member since: May 31, 2017
TopFace.com:
Eric Worre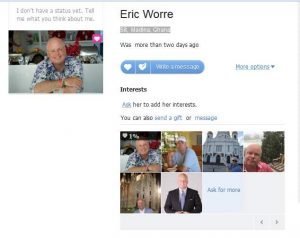 Photos of Eric Worre (speaker, trainer, and consultant: Company Name Network Marketing Pro Inc., United States)
PROFILE INFORMATION:
Age: 58
Location: Madina, Ghana
About myself:
I'm Eric from USA i am a honest simple preson my hobbies are siwwming and reading traveling buinesse
Education      High school only
Sociability     Easygoing
Your favorite restaurants  Shoprid

Visit us HERE:
https://plus.google.com/107412144704560101552
https://plus.google.com/u/0/118111577715408784831