Romance Scammer
DR. SAM COLLINS
In the first instance you should go here and read our advice page. It is just our general guidance to help you
Romance Scam
Leave scammer
Dr. Sam Collins
(Ghana)
Tinder profile:

Dr Sam Collins3287
Skype profile:

Samcool1113




Phone number:

347450945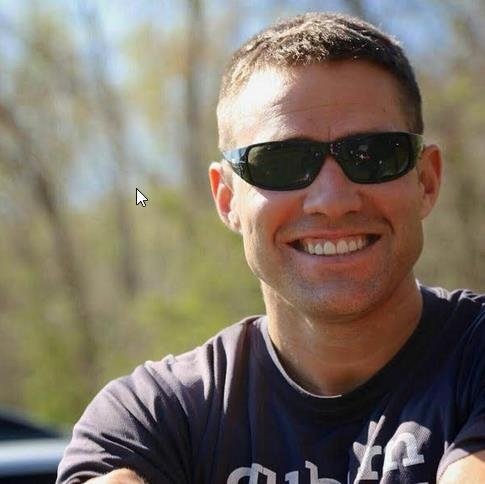 The pic above is of well known Commander Andrew "Andy" James Baldwin, MD, USN. He is a US Naval Officer, ironman triathlete, humanitarian, and physician. Born and raised in Pennsylvania, he received his bachelors from Duke University and his medical degree from UCSF. 
Informant
I got this email from Dr Sam Collins3287. He tells he work at the UN university hospital in Damascus.He asked my help him to get a vacation certificate. He told me he was a UN doctor at the University hospital in Damasus, Syria. He said: "Am Colorectal surgeons specialise in the surgical treatment of disorders of the lower intestine (the colon, anus and rectum). Examples include treatment for cancer, ulcerative colitis, twists of the colon causing obstruction." (Looks like Nigerian or Ghanaian English to us!)
From: HEAD OFFICE < [email protected] >
 Re: Vacation certifcate
UNITED NATION VACATION 
HELLO MADAM,
HOW ARE YOU DOING? WE HOPE ALL IS WELL, THIS LETTER IS COMING FROM THE UN-HQ. DOC SAM CAN GET HIS VACATION ONLY IF YOU CO-OPERATE WITH US, WE WANT YOU TO KNOW THAT GETTING THE VACATION CERTIFICATE(VC) ATTRACT SOME MONEY OF 800,000 DOLLARS AS VACATION ALLOWANCE FOR DOC SAM. IT IS FOR HIS WELFARE AND TO HAVE A GOOD STANDARD OF LIVING. WE WILL TRANSFER THE VACATION ALLOWANCE TO YOU AS SOON AS WE CONFIRM THAT DOC SAM IS WITH YOU
THANKS FOR YOUR PATRONAGE WE ARE GLAD TO HELP YOU WITH THE VACATION PROCESS, ALL WE WANT FROM YOU IS YOUR CO-OPERATION, WE LIKE
TO INFORM YOU ABOUT THE STEP TO CONTINUE WITH THE PROCESS,
(1)YOU HAVE TO PAY FOR THE ATTORNEY FEE,THE SUM OF (350 USD).
(2)YOU HAVE TO PAY THE SUM OF (300 USD) TO SEEK FOR THE VACATION CERTIFICATE FROM THE      FEDERAL HIGH COURT.
(3)YOU HAVE TO PAY THE SUM (250 USD) FOR DHL TO ENABLE US TO DELIVER THE CERTIFICATE TO    DAMASCUS CAMP.
TOTAL COST OF ALL EXPENSES IS (900 USD).
(4)YOU HAVE TO SEND US YOUR CURRENT HOUSE ADDRESS,MOBILE NUMBER,ONCE WE   RECEIVE THIS REQUIREMENT FROM YOU,THEN WE CAN START THE PROCESSING WHICH    WILL LAST JUST 3 WORKING DAYS,THERE AFTER YOU WILL NOTIFY US WHICH BANK
   TO TRANSFER HIS VACATION ALLOWANCE IN YOUR ACCOUNT OR YOU CAN DECIDE TO LET DOC SAM RECEIVE IT HIMSELF WHEN YOU PEOPLE ARE TOGETHER. PLEASE TELL DOC. SAM TO CONTACT.
REPLY US, IF YOU ARE READY TO PROCESS FOR THE VACATION CERTIFICATE SO THAT WE
CAN GIVE YOU THE STEP FORWARD AND WHAT TO DO SO DOC. SAM CAN COME HOME YOU AS YOU WISH
THANKS FOR YOUR PATRONAGE.
SIGNED: UN HEADQUARTERS
ADMIN NOTE:  No official organisation would use free emailers like Yahoo, Gmail, Consultant etc, as above.
Other claims from the scammer.
He told me that he was a leader of 5 other doctors. He told me that he has his home in Oakland, California, and that he owns a house and 3 expensive cars. He said that his wife died five years ago from cancer and when they should get their second baby. For this reason he wanted a new wife, that's why he contacted me. It did not do anything for him that I was much older than him  He also has a daughter 14 years old living alone in USA.  "She" has also sent me several emails and she was calling me mom all the time.
1) He wanted me to send $800 to his motherless teenager girl – her birthday present / she needed this amount of money to have a birthday party he told me (too much!!!!)- because he told me that his salary was blocked in Syria. Her name was, Jane he told me, and she lived in USA. Her email address is [email protected]. He told me how to send the money. 
2) He wanted to retire from UN and he wanted  his pension to be sent direct to my bank account.  (The scammer is phishing for the victims bank details.)
3) He wanted me to pay $900 for his vacation certificate.
He also told me that he had a lot of money in his bank account, $6750000  in a bank in West Africa. (RED FLAG!!) He said he got the money after working in 34 hospitals there, look at the picture of his account as he sent me, but again it was difficult for him to get this money to USA. He tells me that I can check the account myself. He tells me that the jonesmckiernan17 is the username of the manager, jones2020 was the password, he said.
There are so many ludicrous red flags above.  The idea of using the bank manager user name is  stupid. 34 hospitals in West Africa worked at? THATS'S GOING SOME!! You should be aware of most of the excuses above that are detached from reality and the real world. We have links at the bottom, of the information we give to help you.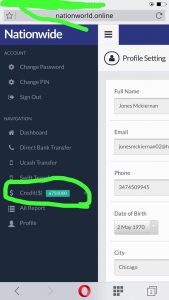 More stolen photos of Andy Baldwin used by the scammer. We are not going to post them all.

FAKE PROFILE on Facebook using the same information given to us above
https://www.facebook.com/sam.collins.1612
PROFILE INFORMATION:
Former Plastic Surgeon at U.S. Army
Studied Plastic Surgery at Oakland Christian School  (!!!!)
Past: Oakland School for the Arts School of Dance
Lives in Damascus, Syria
From Oakland, California
Widowed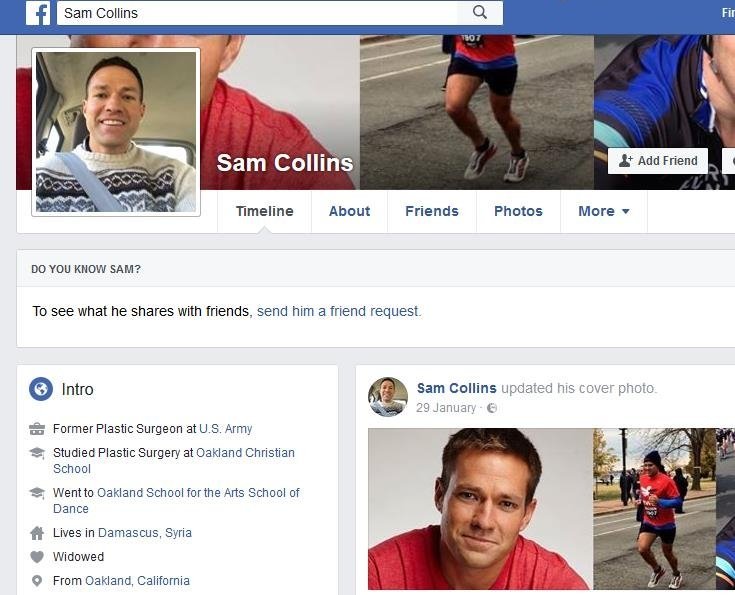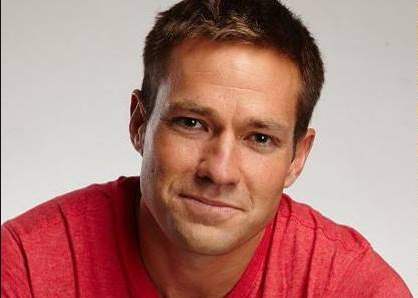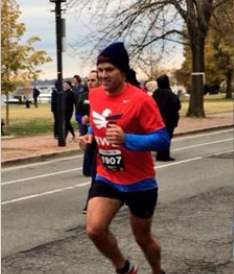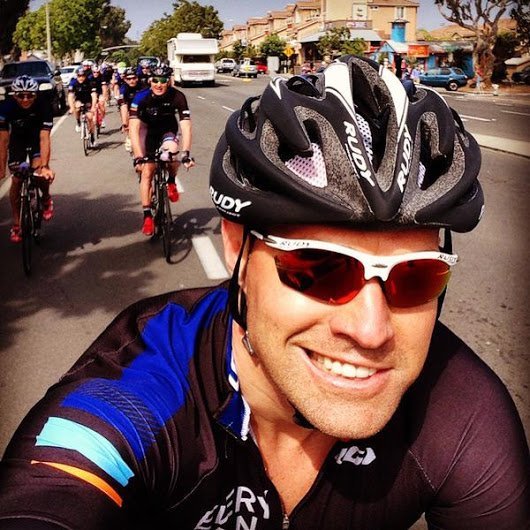 Photos of James Baldwin (US Navy Commander Andrew "Andy")
Messages from the fake daughter written by the scammer himself.  Hardly a masterpiece of English.  It is almost laughable -sadly. Note that with an MTCN the stolen money can be collected from anywhere.  The scammer actually got nothing from our informant. He wasted his time and now we are going to try to  make sure he also gets nothing in the future.
         Jane 
FAKE DAUGHTER PICTURES
From: Dr Trust God < [email protected] >
Message : Re: love and trust ……. and
Let's write on skype 
SCAMMER ON SKYPE. 
Samcool1113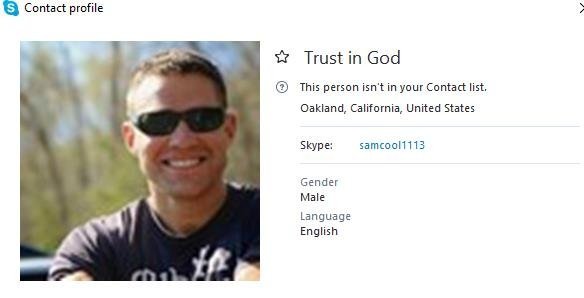 Information files.
Please DO NOT tell the scammer he is posted here!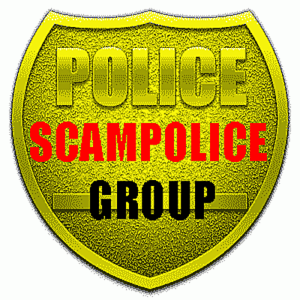 Visit our INFORMATION PAGES:
You can subscribe to our website from the site HOME PAGE (top right corner) for getting information about new posts: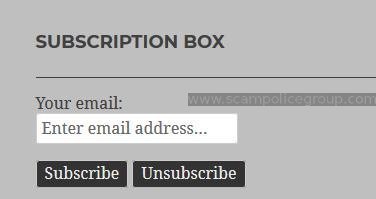 If you subscribe please check your SPAM BOX